Details

What it is:
A multi-functional and targeted beauty stick that features LED light therapy and heated EMS massage that relieves dark circles, under-eye bags, and discoloration and improves the appearance of crow's feet and other fine lines. 

What it does:

With three different gears that work to target the eyes, lips, and other areas, this versatile beauty treatment stick promotes vasodilation, increasing blood circulation, and maximizes skin's absorbency potential of products.

Red LED light at 635nm increases cellular activity and metabolism to promote collagen production. Blue LED light at 413nm fights acne causing bacteria and prohibits inflammation, helping to combat puffiness and dark circles. EMS massage function is heated to 113° F* to relieve capillary + cation and anion back flow for ultimate nourishment and increased blood flow. 

Smart memory function remembers your gear settings after each shut-down.

*Please patch test heat capabilities prior to use.

Shipping & Returns

Shipping

I JUST PLACED AN ORDER, WHEN WILL IT SHIP?

All orders are subject to a processing period before shipment, usually 2-3 business days. Orders placed on a weekend or holiday will be processed within 2 to 3 business days, Monday through Friday.

Please allow 5-25 business days to receive your order, delivery times may vary depending on your country and product location.

 

WHAT IF MY ITEM WAS DELAYED BY THE COURIER? 

 

Prima Boutique is responsible for items until it reaches the Carrier/Logistics Provider. After that, any delays or damages are out of our control. Prima Boutique is not responsible to any foreseen circumstances causing delays such as weather related damage/delays, global pandemic delays, and more. Such orders are not subject to normal return policies and Buyer must claim with carrier/logistics provider.

 

 

WILL I RECEIVE A TRACKING NUMBER?

You will then receive notification of shipment with full tracking information. In many instances, to save you money, we are shipping directly from the manufacturer. Please allow 5-25 business days to receive your order, delivery times may vary depending on your country and product location.

 

WHAT IF I DO NOT RECEIVE MY PACKAGE WITHIN THE ESTIMATED 5-25 BUSINESS DAYS?

Our fulfillment process prioritizes on-time shipping and safe delivery. In certain instances with delays and unforeseen circumstances out of our control, packages may take longer to arrive at final destination than estimated. If sixty (60) days have passed after order was placed and package is not delivered, we will issue a full refund with no questions asked. 

 

MY PACKAGE WAS LOST WITH THE CARRIER, WHAT CAN I DO?

In the case that your shipment is lost or damaged in transit; Buyer is responsible to file the claim with the carrier or forwarding service/company. Prima Boutique is not responsible for shipments sent to forwarding services or companies regardless of shipping service selected. 

Orders may be cancelled if they have not been processed and shipped. After they have been processed, they may not be cancelled.

 

I HAVE ENTERED AN INCORRECT SHIPPING ADDRESS!

Please make sure to provide the correct shipping address. Prima Boutique can not be held responsible for items shipped to incorrect addresses provided by the buyer. In such cases, the buyer will be responsible for any additional shipping fees incurred to ship to the correct address.

If you have misspelled our auto-filled your address incorrectly, simply reply to your order confirmation email within 24 hours of order placement with the correct information. Or notify us immediately via e-mail at help@prima.boutique.

 

MY ITEM ARRIVED DAMAGED.

Our items are always packed securely as parcels often times have to travel far distances for international shipping. Despite this, sometimes damages may occur during transit. 

If this happens to you, please contact us with:
- Your order number
- A video of the damaged product
- A photo of the shipping label

Please note there is a 30 day period from the date of receipt to inform us of any defects. If after 30 days have passed, we will not accept any product defect claims.

WILL I HAVE TO PAY FOR IMPORT TAXES?

In some cases, international shipments will require import/customs taxes be paid. These will be the responsibility of the buyer under ALL CIRCUMSTANCES. Prima Boutique will not be held responsible for customs taxes.

Please monitor your tracking information for any updates on customs taxes by your local carrier.  

Returns

HOW DO I RETURN MY PRODUCT?

Your happiness and satisfaction is our priority! If for any reason our order did not meet your expectations, returns will will be accepted within 30 days of delivery date.

To initiate your return, please fill out our Returns & Replacements form HERE to receive your returns number and instructions. Please note that buyer is responsible for paying return shipping costs.

If your item is received damaged, we require you to send us a picture and/or video showing the damage and upon inspection we will tell you whether it fits our criteria for replacement. Return shipping for damaged goods will be reimbursed.

All items must be in an unused re-sellable condition and in their original packaging. We reserve the right to reject any return that does not fit this criteria.

 

I RECEIVED MY PRODUCT, BUT NO LONGER WANT IT.

If your item is in working condition but you have ordered in error or no longer require the item then we reserve the right to charge a 30% restocking fee.

Please include the returns number we provide so that the refund can be properly processed. If you don't include the returns number, then we cannot guarantee your refund can be processed and/or it may be delayed. 

Buyer is responsible for paying return shipping costs. We recommend using a trackable shipping service to ensure your return is delivered.  Prima Boutique is not liable for any returns that are lost or damaged by courier service.

Strict no return policy for cosmetic face masks, creams, solutions, and serums. For health and sanitary reasons, these products will not qualify for returns. Thank you for understanding! 

 

FAQs

For more information, please visit our Customer Service page

HERE

.

Disclaimer

The Prima Boutique website does not contain medical information or advice. The information provided herein, such as text, graphics, images and other material is for informational purposes only and is NOT intended to support the safety or effectiveness of devices, or diagnose, treat, cure, or prevent any disease. The contents of this website are NOT intended to substitute for professional medical advice, diagnosis or treatment.  

Please consult your physician for personalized medical advice. This website is NOT a substitute for a face-to-face consultation with your healthcare provider, and should NOT be construed as medical advice. Always seek the advice of a physician or other qualified healthcare provider with any questions regarding a medical condition. Never disregard or delay seeking professional medical advice or treatment because of something you have read on the Prima Boutique website.

The independent reviews presented are applicable to the individual depicted and may not represent the uses mentioned above. Individual results may vary.

Prima Boutique does not recommend or endorse any specific test, physician, product, procedure, opinion or any other information provided on its website. Reliance on any information provided by Prima Boutique, Prima Boutique employees, others represented on the website by Prima Boutique's invitation or other visitors to the website, is solely at your own risk.

If any discomfort or abnormal conditions arise during usage, please stop use immediately and consult with your physician. 

In a medical emergency call 911 immediately. 
In Depth


If you want to know more…
Read more about the benefits of LED light therapy HERE and EMS technology HERE. 
Suggested use:
Gear 1 Red light at 635m + heated EMS massage: Red LED light promotes blood circulation and regenerates collagen production while the heated EMS massage multiples skin care product absorption. Best for treating heavy eyelids, dark eye circles, and wrinkles around the eyes. 
Gear 2 Blue light at 413nm: Blue LED light combats acne-causing bacteria to reduce inflammation, calm the skin, and accelerate healing. Best for sensitive, oily, and acne-prone areas. Blue light on the Yintang accupressure point located in between the inner eyebrows, also known as The Third Eye, is also known to regulate blood stasis and induce calming effects on the body. 
Gear 3 Heated EMS massage at 113° F: EMS vibrations relieves the capillaries and cation/anion back flow. Heated EMS massage is works great on the lips, fading cheilogramma, inflammation of the lips, and regulating uniform lip color. 
This set contains:
- Intelligent Beauty Treatment Stick
- USB charging cable
- User manual
Intelligent Beauty Treatment Stick is not waterproof. Do not place in water.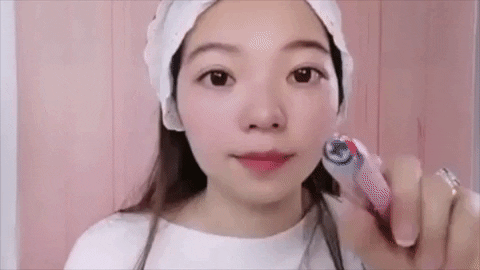 Power Source: Electric via USB charging